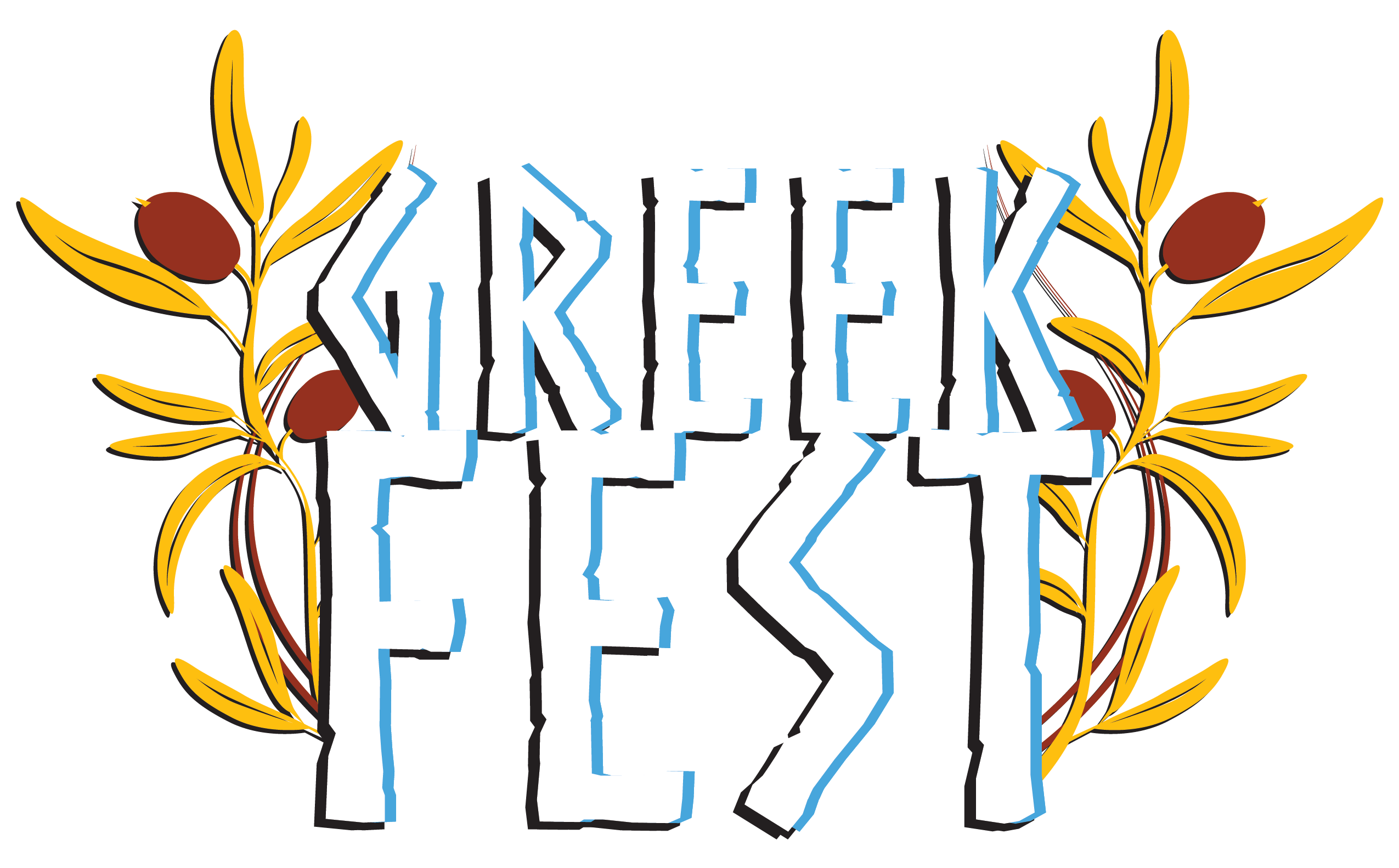 Welcome To Greek Fest!
Experience the culture and ancestry of Greece and our Orthodox Christian faith! Be a part of our festival at St. George Greek Orthodox Church in Huntington, WV. We welcome you to connect with our heritage and traditions that are centuries old, but still contemporary in their focus. Our Church tours will inspire you and educate you, the food and drink will fill you with joy, and the hospitality will make you feel right at home. Stop by the shops, enjoy the music and dancing, and enjoy the wonderful Greek pastries!
Food and Drinks offered outside on Church grounds:
Gyro Sandwich (yee-ro)
Thin slices of spiced meat on pita bread, topped with tomatoes, onions, lettuce and tzaziki sauce (a delicious yogurt and cucumber sauce). Add feta for .50 cents more!
*Vegetarian gyro available upon request.
Greek Fries
Special Greek spices make these fries a delicious complement to your Gyro.
Available in Gyro area only!
Roasted Lamb w/Pita Bread
A slice of roasted lamb on pita bread with tzaziki sauce (a delicious yogurt and cucumber sauce), tomatoes, lettuce, and onions.
Souvlaki (souv-la-key)
Marinated pork or chicken on a skewer wrapped in pita bread, topped with tzaziki sauce (a delicious yogurt and cucumber sauce), tomatoes, lettuce, and onions.
Greek Pizza
Olive oil, feta and mozzarella cheese, pepperoni, tomatoes and olives on a pita bread.
Grilled Meatballs
5 Grilled Greek meatballs served on a skewer.
Baklava Sundaes
Baklava crumbled over ice cream with whipped cream and a cherry on top.
Food offered in Social Hall (basement):
Chicken Dinner (ko-ta)
Includes chicken basted with oregano, lemon juice, and oil; Greek style potatoes, Green Beans, Greek salad, and bread.
Lamb Dinner (ar-nee)
4 oz. (pre-cooked) roast leg of lamb with Greek spices, Greek style potatoes, Green Beans, Greek salad, and bread.
Pastichio (pa-stee-cho)
A baked casserole of ground beef and macaroni topped with a creamy sauce.
Moussaka (moo-sa-ka)
A baked casserole of ground beef, eggplant and potatoes topped with a creamy sauce.
Spanakopita (spa-na-ko-pi-ta)
Spinach wrapped in phyllo, shaped like a triangle.
Tiropita (ti-ro-pi-ta)
Cheeses wrapped in phyllo, shaped like a triangle.
Dolmades (dol-ma-thes)
Grape leaves stuffed with meat and rice.
Keftedes (kef-te-thes)
Greek style meatballs.
Greek Style Potatoes
Oven baked potatoes with Greek seasoning.
Greek Style Green Beans
Greek style green beans.
Greek Salad w/Bread
Lettuce garnished with Greek calamata olives, feta cheese, tomatoes, and Greek salad dressing,served with Grecian bread. Add some additional feta for .50 cents.
Hummus w/pita bread
A dip made of sesame paste and ground chick peas seasoned with garlic and lemon juice.
Baklava Cheesecake
A slice of cheesecade baked with baklava on top. Available in social hall only!
Greek Hot Coffee
A foaming, dark, full flavored coffee served in a demitasse cup served with paximathe.
Greek Iced Coffee
A foaming, full flavored iced coffee with paximathe.
Coffee and Iced Tea 12 oz.
Free Refills of Iced Tea or Coffee
Almond Crescents 
A crescent shaped, almond flavored cookie with a glaze and toasted almonds on top.
Baklava (ba-kla-va) 
Walnuts, butter, and spices baked in layers of phyllo, topped with syrup.
Fenikia (fee-nee-kya) 
Oval shaped cookie dipped in honey and topped with walnuts.
Flogeres (flo-yeh-res) 
Walnuts, butter and spices baked in layers of phyllo topped with chocolate and syrup.
Kataifi (ka-ta-ifi) 
Shredded phyllo with nuts inside, topped with syrup.
Kok (coke) 
A delicious sponge cake covered in a chocolate ganache and filled with either chocolate, fruit, or cream fillings.
Koulouria (kou-lou-ri-ya) 
Three types available: traditional twisted butter cookie, marbled, and a vegan version.
Kourambiethes (kou-ram-beye-thes) 
Butter cookie sprinkled with powdered sugar.
Pear Cookies
Orange flavored, pear-shaped cookie, dipped in honey syrup.
Pecan Blossoms 
A phyllo cup filled with pecans and drizzled with citrus-honey syrup.
Tsoureki (tsu-re-key) Bread
Lightly sweetened braided bread ~ great toasted.
Variety Box 
Contains twelve cookies total, including the following: almond crescent, almond cherry cookie, baklava, feniki, flogeres, kataifi, kourambiethe, pecan blossom and 4 koulouria.
Follow Our Festival Page
Get your Greek On! Keep up with all things Festival Related on our Facebook Page. We post exclusive updates that you won't see anywhere else! OPA!
GREEK DANCERS
Whether you've never seen Greek Dancing or have made a tradition of coming to watch our dancers each year, come to experience Greek Culture right here in Huntington, WV! Our dancers take great pride in keeping the Greek Dance tradition strong in our local community, so come and cheer them on as they perform! Sit and eat our delicious Greek food or just watch and enjoy the heart of the festival as our dancers perform native dance steps all the way from Greece!
Friday at 6:00pm
Saturday at 1:00pm, 4:00pm, and 7:00pm
Sunday at 1:00pm 
CHURCH TOURS
We are the direct spiritual descendants of those who first heard the "Good News" proclaimed by the Apostles in Greece and Asia Minor. For more than twenty centuries we have sought to maintain the integrity of the Early Church's Faith and Worship. Explore our place of worship and get a feel for how Orthodox Christians come to the Lord in prayer.
Friday at 12pm and 5:00 pm
Saturday at 2:00 pm, Vespers at 5:00 pm, and 6:00 pm
Sunday at 2:00 pm
GIFT SHOP
Visit our gift shop which features an array of unique Grecian collectibles, t-shirts, cook books, religious items and more!
Our Festival is located at St. George Greek Orthodox Church
701 11th Ave, Huntington, WV 25701